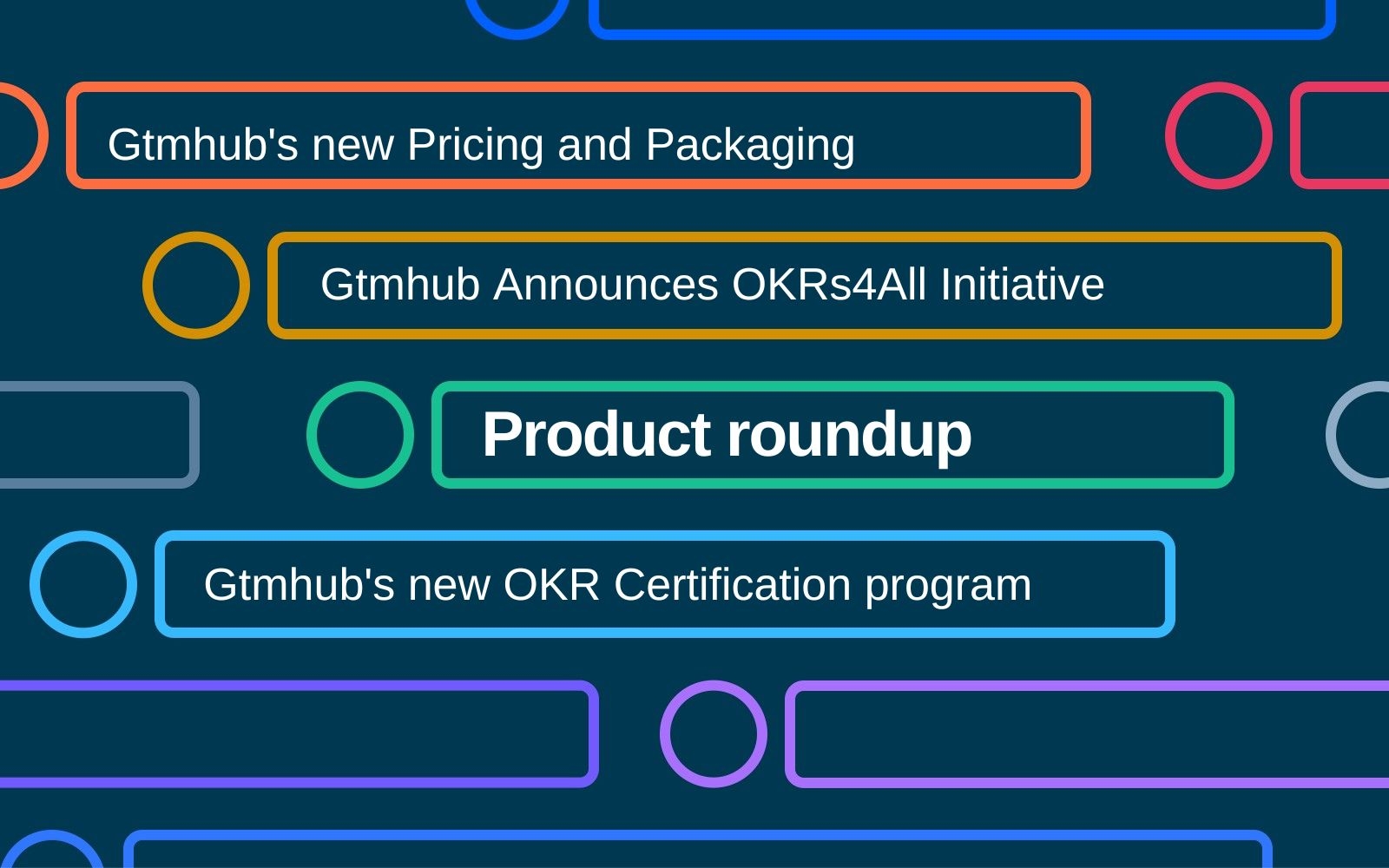 DATE:

AUTHOR:

Quantive Product Team

RELATED ROADMAP ITEMS:
Q3 Roadmap
🚀 New
✨ Improved
Weekly Product Roundup for 09.09.2022
DATE:
AUTHOR: Quantive Product Team
This week, we're delighted to share some exciting news from Gtmhub, spanning an update to pricing and packaging, our OKRs4All initiative, new OKR Certification programs, and some exciting feature updates. Check out what's new:
New Pricing and Packaging of Gtmhub
What's new? At Gtmhub, your success is our success. To best serve our customers and continue to cultivate success, we have made updates to the Self-Serve and Sales-Led packages to better meet customer needs going forward. As part of this, we have also updated the pricing of the packages, and have introduced a new free-forever offering: the Essentials plan.
Want to learn more? To find out more about the changes we've made to the pricing and packaging of Gtmhub, or to compare features between the new packages, visit the updated webpage here.
Gtmhub Announces the OKRs4All Initiative
What's new? This week we announced our OKRs4All initiative, to provide our new feature-rich Essentials Plan free of charge forever, with unlimited users! Here at Gtmhub, we believe OKRs to be so pivotal in the success of a modern business; we are giving all organizations, the ability to craft, implement and optimize outcome-focused OKRs with our free Essentials package. On top of giving the ability to implement OKRs, we're giving the education necessary to optimize them too with the introduction of OKR-U, Gtmhub's OKR certification and training program.
Want to learn more? Visit our full press release here.
Gtmhub Announces the OKR-U OKR Certification Program
What's new? At Gtmhub we are continually trying to improve our offerings and give you the tools and resources necessary to succeed. As part of this, we are introducing the OKR-U certification program, with the first intallment, the OKR Practitioner Certification launching this fall.
The OKR practitioner certification is aimed at low-medium OKR competence levels and focuses on writing outcome-focused OKRs, and how to embed them into your work. The online, live course spans half a day and is led by one of our Customer Success experts.
Want to learn more? To find out more about the OKR Practitioner Certification, or to sign up, visit the website here.

As well as the exciting announcements above, we've released some minor features and improvements aimed at improving your experience of using Gtmhub, and empowering you to execute your strategy.
Additional Detail on the OKR Screen (Mobile)
We're aware not all organizations or individuals are desk-based, and as part of our OKRs4All initiative, we're investing heavily in our Mobile app to better serve those individuals and organizations who are constantly on-the-go. We've added more detail to the Gtmhub Mobile App's OKR screen, allowing you to view OKR State, Privacy Label and the Design Score of each OKR. To see for yourself, download the OKR Mobile App here.
Filter by OKR Name in Lists
Filters are a convenient and quick way to navigate to what you're looking for in Gtmhub, and now you can filter by OKR Name. This update allows you to quickly navigate to the OKR you're looking for, freeing up the time spent searching to utilise on achieving your success. To find out more about filters for OKRs in the OKR Grid, visit our help article here.