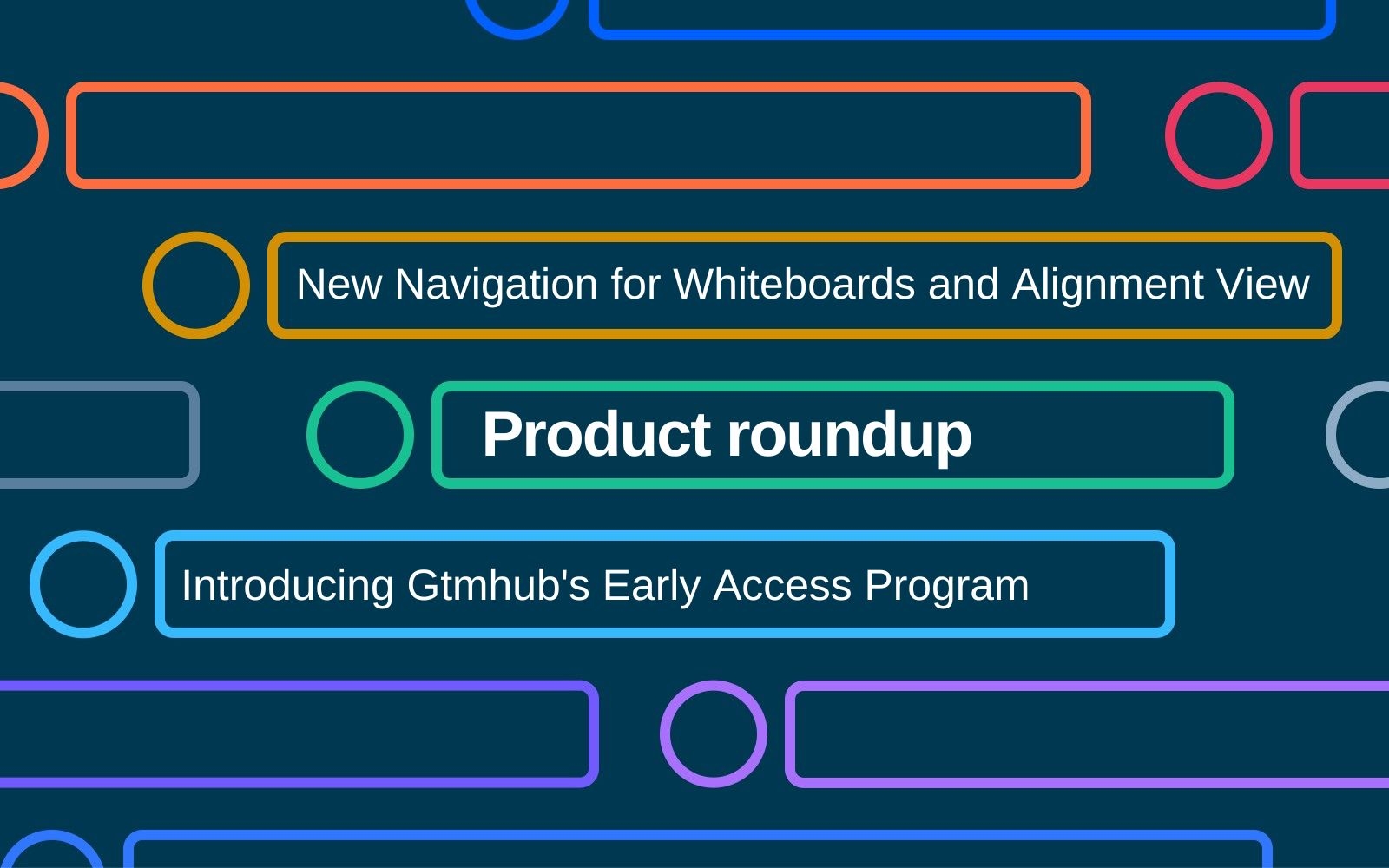 DATE:

AUTHOR:

Quantive Product Team

RELATED ROADMAP ITEMS:
Weekly Product Roundup for 11.11.2022
DATE:
AUTHOR: Quantive Product Team
This week, Gtmhub's releases focused on improving the navigation for 2 of the most used screens in the platform, Whiteboards and Alignment view. We're also delighted to announce the new Early Access group, giving you the ability to signup and get your hands on early access to Gtmhub feature releases and similar beta tests. Check out what's new:
New Pointer/Hand Tool for Navigating Whiteboards and Alignment View (Beta)
What's new? Whiteboards and Alignment View are 2 of the most used pages within Gtmhub. Due to many companies' reliance on these key features of Gtmhub, we understand that both Whiteboards and Alignment View can become very expansive and thus hard to navigate. Not anymore - we've released beta testing of the new pointer/hand tool to help navigate with ease.
We have introduced the ability to switch between 2 navigation modes in Whiteboards and Alignment View, the Pointer and the Hand. The hand is the newest addition and allows users to "grab" the canvas by clicking on it, then move it using the mouse. This provides a better, more consistent navigation that's in line with other tools on the market, and makes navigating a breeze allowing you to find what you're looking for effortlessly.

Want to learn more? If you want to learn more about this feature, visit our help articles on working with Whiteboards and scrollbars and navigation in Alignment View.

Introducing Gtmhub's Early Access Program
What's new? Your experience and feedback is so important to us here at Gtmhub, we're giving you the opportunity to gain early access to feature releases and Beta testing so we can gather your feedback and finetune the feature, before we release it to the wider population.
Ultimately, all of our roadmap items in the pipeline are designed to improve your experience while using Gtmhub. Whether it's improving the navigation, making the platform more accessible or making automations and insights a doddle - we want to involve you in the production process to make sure all future releases perfectly meet your needs.
How do I sign up? To signup to our Early Access Program, simply enter your details in the signup form here, and we'll be in touch.

As well as adding the above major features, we've been hard at work to deliver some minor enhancements across the platform.


Tasks from future Sessions show under "My Tasks": Previously, tasks created under an objective or a KR from a future session did not appear on the "My Tasks" page, which was confusing to users. Now, with this update, all tasks relating to a user - regardless of whether they belong to the current or future session - will show under their "My Tasks" page. This helps users stay organized, informed and on top of all tasks.
Numeric Custom Fields: Previously, when creating a Custom Field only "text field" and "text area" were supported. However, through research and feedback we discovered that some customers create custom fields to input numeric values. While the text fields/areas allow to enter numeric values, they can't be sorted in the lists. To combat this, we've introduced a new type of custom field for numbers which allow the user to also select it to be displayed as a currency.