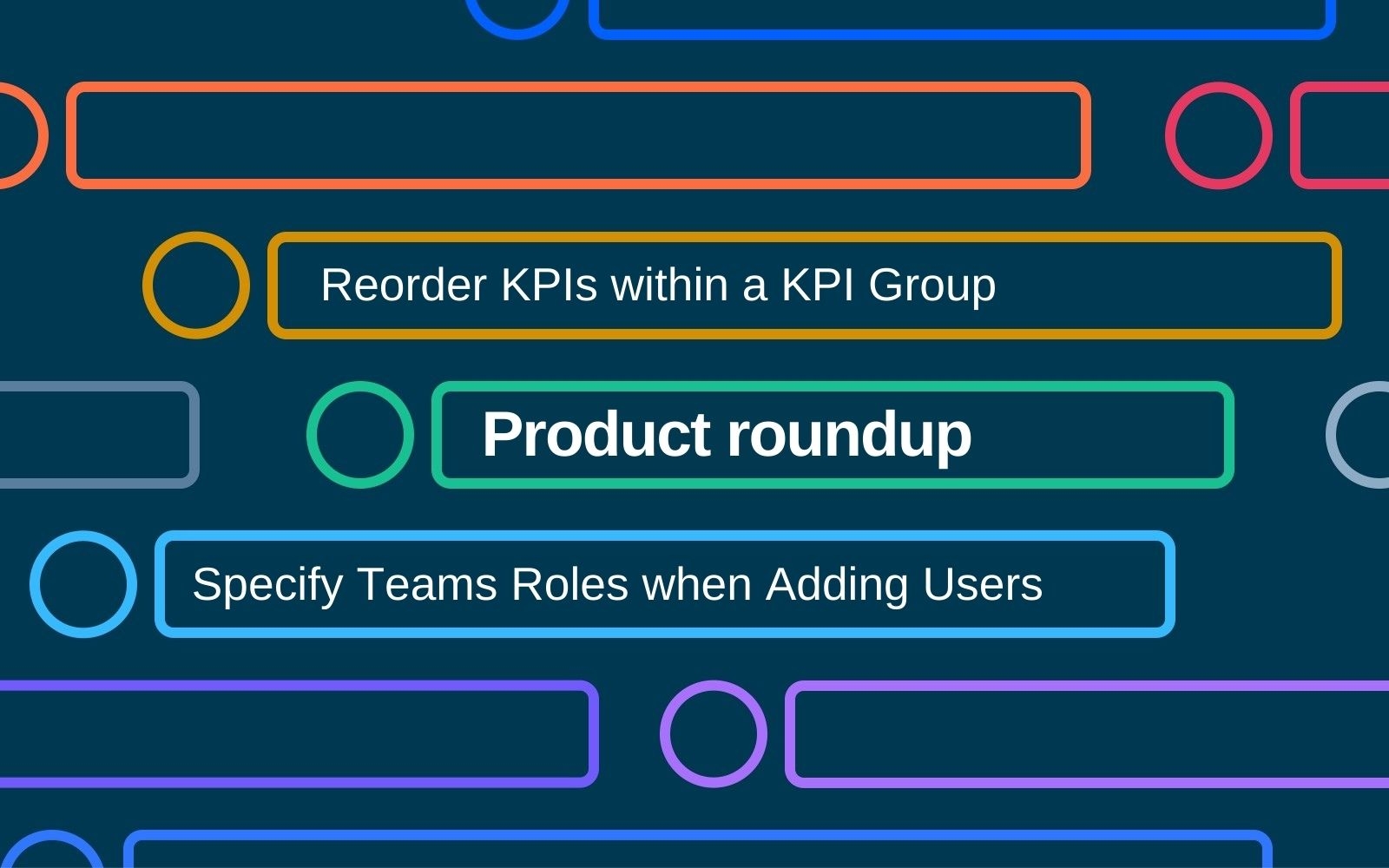 DATE:

AUTHOR:

Quantive Product Team

RELATED ROADMAP ITEMS:
Weekly Product Roundup for 07.01.2022
DATE:
AUTHOR: Quantive Product Team
During the week, we have added some additional features covering KPI Groups and inviting new users to Gtmhub. We have also made some further minor enhancements to improve your Gtmhub experience.
Reorder KPIs within a KPI Group
What's new? We have launched the ability to reorder KPIs within a group. We understand that some KPIs are best suited grouped together due to their similarities or complimentary natures, allowing you to get the best overview of what is happening within your business. Now, with the addition of the ability to reorder within a KPI Group, you can quickly and efficiently sort the KPIs within a Group. Customise your KPI Groups by reordering to match an order that suits you.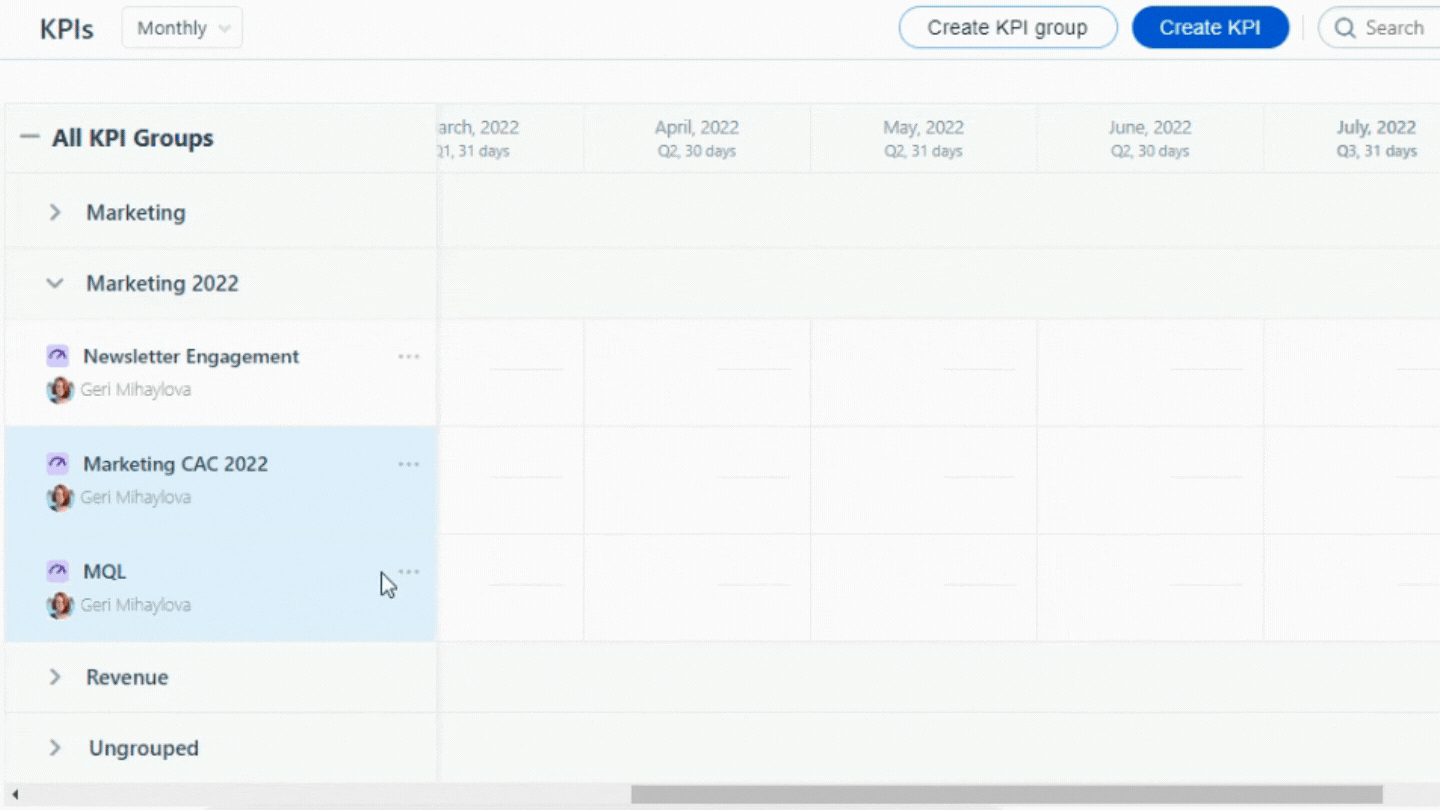 Want to learn more? Visit our full release note on this new feature.
Ability to specify Teams and Roles when adding new users
What's new? We have added the ability to specify a new User's Team and Role when inviting them to the platform. Gtmhub makes it easy to align and collaborate no matter the team size, and we have now made it even easier to add new team members to your Gtmhub account. The ability to specify a User's Team and Role allows the admins to save time on repetitive tasks, and makes bulk-adding Users a breeze.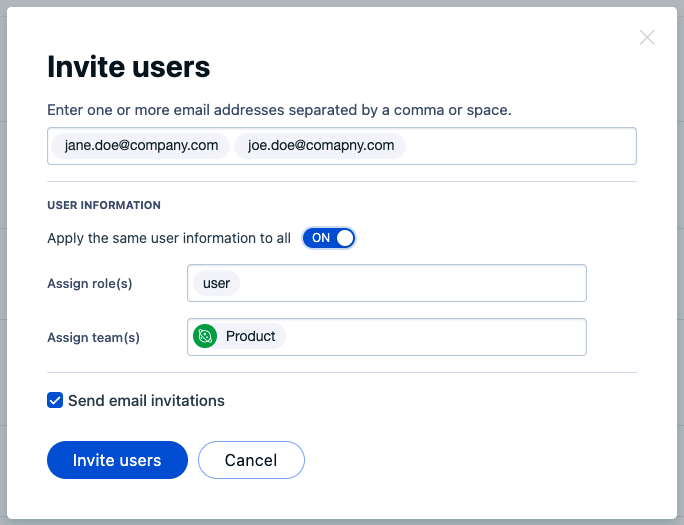 Want to learn more? Visit our full release note on this new feature.

As well as the major launches above, we have added lots of minor improvements to Gtmhub in our pursuit to have best-in-class SaaS. See below what we've improved this week:
Default Custom Session Permissions
We have added default custom permissions when creating the Session, that match the default settings when editing a Session to provide better clarity and consistency for Users. It is also now mandatory for at least one User/Role/Team to have "Manage Permissions" status for the session, to avoid an instance where you may be locked out of a session. For more information, visit our help article on how to create Sessions.
Redesigned OKR Screen for Mobile
We have added labels to the different fields and redesigned the OKR Screen for the Mobile app to simplify the user experience and provide clarity. If you want to try OKRs on the go, download the Gtmhub app today. Download the Gtmhub Mobile app here.
Modularity for Mobile
With Gtmhub's expansion strategy, the platform is set to grow with more features and capabilities added each quarter. To better customise your Gtmhub experience, we allow account Admins to hide some of the features or tools not relevant to your business. Once hidden in the Gtmhub web platform, the next time a User logs in, the feature will also be hidden in the Mobile app. Download the Gtmhub Mobile app here.
Don't Show My OKRs if Only Team Can Own OKRs
To avoid confusion, we have removed "My OKRs" in the Home screen for instances when the OKR Methodology settings dictate that only Teams can own OKRs.
OKR Cascading
OKR Cascading is a way to to link/cascade KRs, allowing one KR update to inform and automatically update another KR. We have now made the process easier to link KRs by removing some of the complex settings and building a new cascading dialogue that supports batch operations. For more information, visit our OKR cascade help article here.
New Roadmap Features
Here are new features that were added to our Product Roadmap:
Send Links with Applied Filters. We are adding the ability to send links with applied filters, so that the recipient can open the filtered view directly, saving them time. To see more information or to subscribe, see the roadmap here.

Suggest Connecting Data Sources when Creating KRs and KPIs. This update, it will auto suggest data sources that match the KR title, when the User doesn't have the data source onboarded, and the KR title doesn't match any of the readily available Insights. For more information or to subscribe, the the roadmap here.