DATE:

AUTHOR:

Quantive Product Team

RELATED ROADMAP ITEMS:
Q2 Roadmap
🚀 New
✨ Improved
Weekly Product Roundup for 05.20.2022
DATE:
AUTHOR: Quantive Product Team
This week we added the ability to reorder Key Results, an option to customize the sync schedule of data sources, and built two new integrations: Miro and Box Excel Spreadsheets. Check out what's new:
Integration with Miro
What's new? You can now brainstorm on OKRs within Miro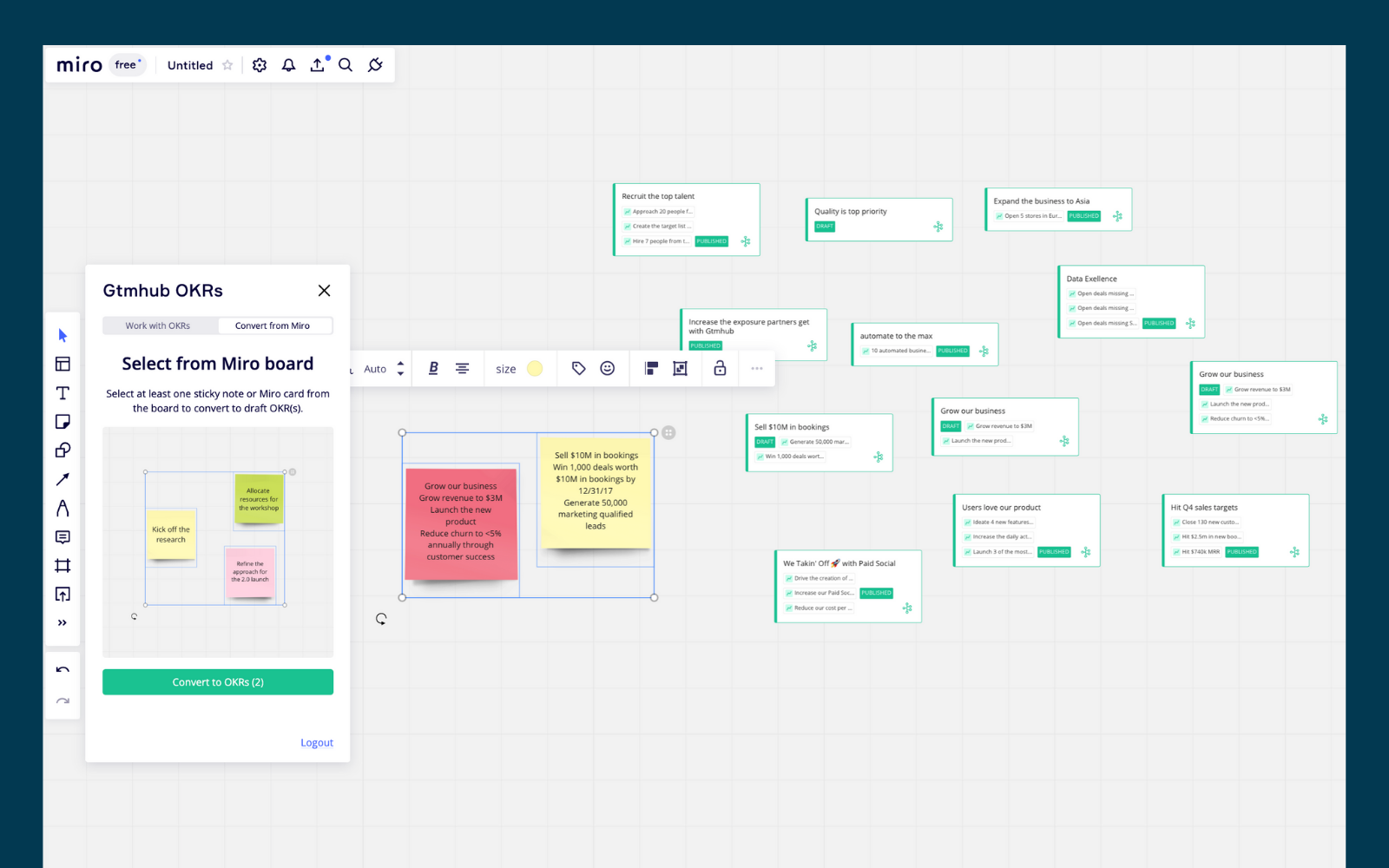 We have built a new Miro Integration that is available in Miro's App Marketplace. This will allow users to draft their OKRs in Miro and publish them to Gtmhub. Want to learn more? Visit our full release note on this new feature.
Reorder Key Results
What's new? You can now customize the order of your Key Results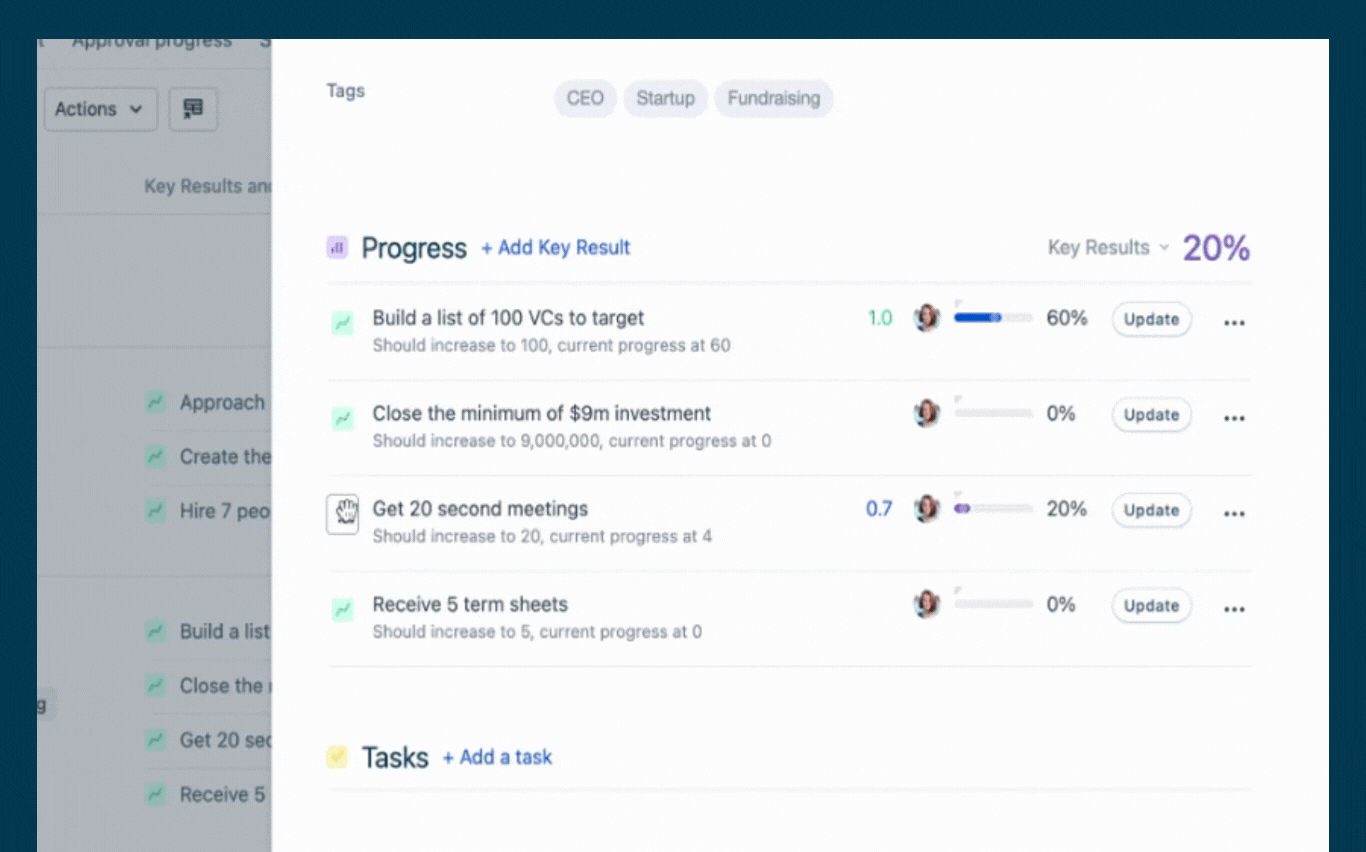 When creating Key Results, we have added the ability to drag and drop Key Results to match your preferences. Want to learn more? Visit our full release note on this new feature.
Box Excel Spreadsheet Integration
What's new? Bring more of your data into Gtmhub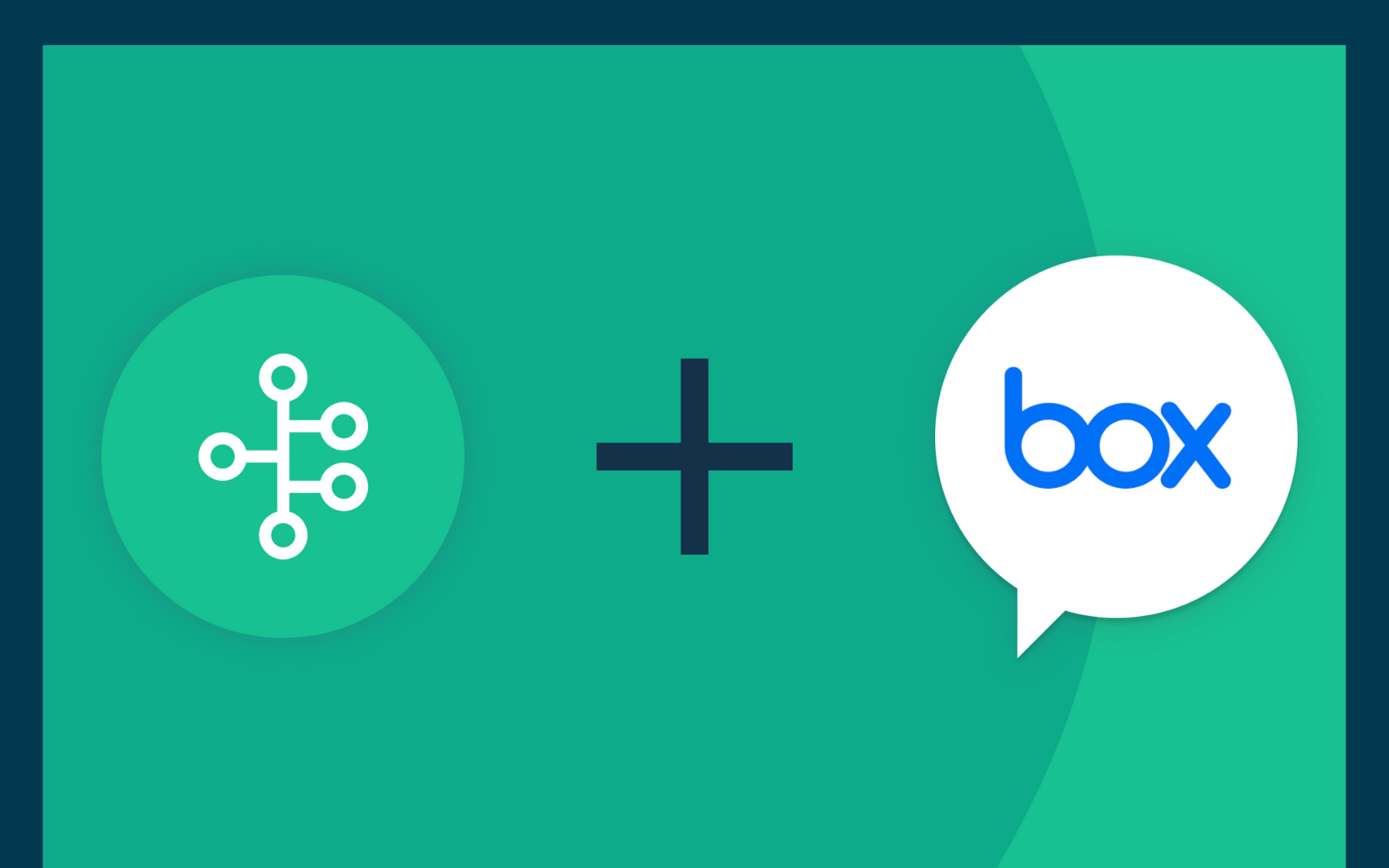 Customers who use Box for storing data on the cloud can now sync Excel spreadsheet data from Box to Gtmhub. Want to learn more? Visit our full release note on this new feature.
Customize Sync Schedules for Data Sources
What's new? Set specific days and times for your data sources to sync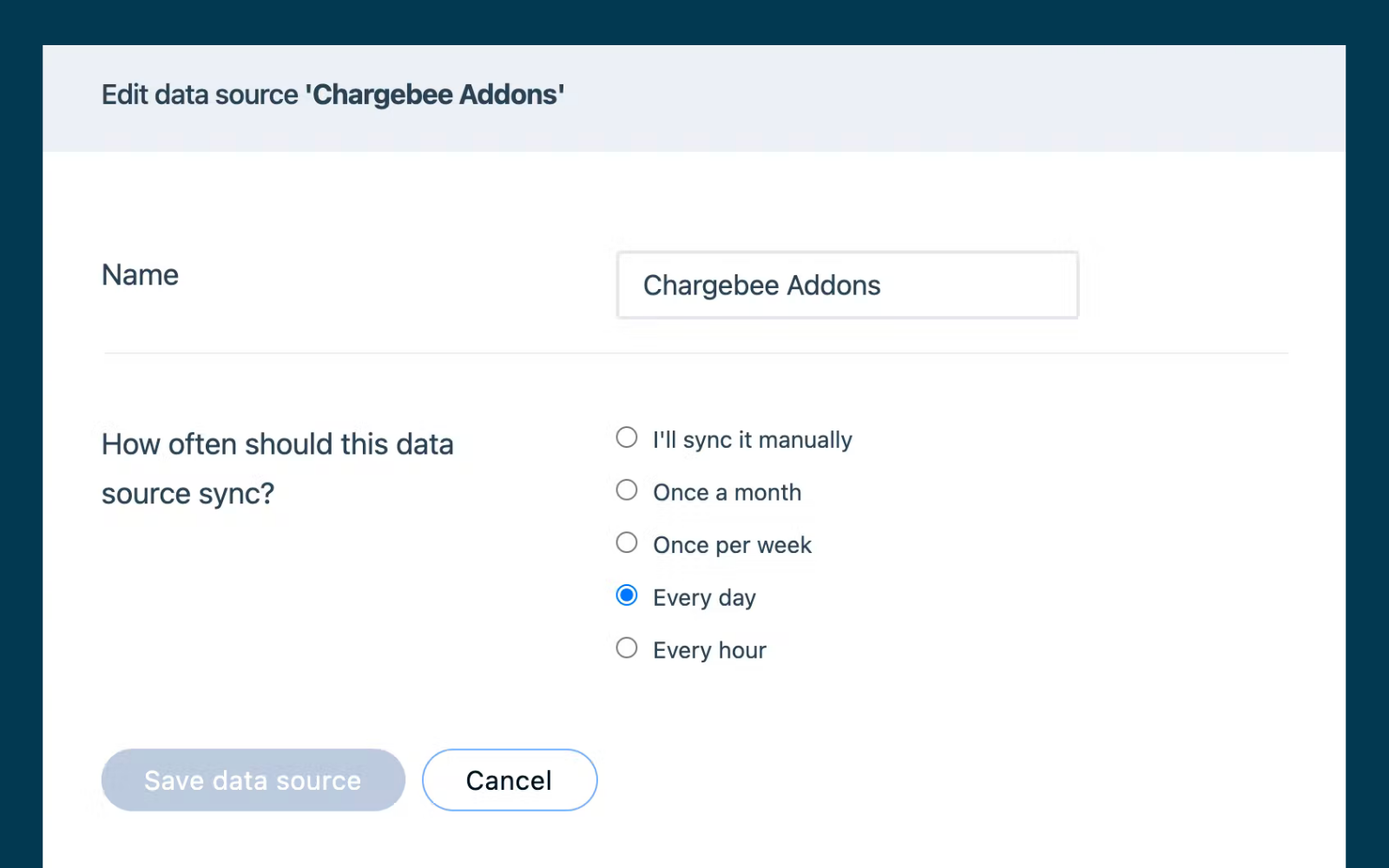 We have found most customers prefer to have their data sources synced on a specific day and time, rather than on a generic "once per week" sync. Need to have data synced every Sunday at midnight? We now have you covered. Want to learn more? Visit our full release note on this new feature.



Enhanced Integrations
We improved our jenkins_builds data source to allow users to create Insights and KPIs about code coverage and test results. We also enhanced our Intercom data connector to support the sync of Intercom help articles to allow Key Results to be automated based on documentation.
Inline Editing for Team and Employee Profiles
We reduced the number of steps and clicks needed to edit a Team or Employee Profile. Now for users with edit permissions, they will be able to click on a Team or Employee and edit avatars, add and remove members, set managers and more all from one edit page.
Improvements to User Experience Including...
Preventing confusion around the "add a Key Result" option when an Objective is already in progress and a user can not add a new Key Result.

Improving the design of the "My OKRs" section on the home dashboard and adding an information tooltip to help users distinguish between the OKRs they own and the Key Results they own where the Parent Objective is owned by someone else.

Filtering out the "Time to update OKR" notification so that it does not send on the scheduled due date if a user has already updated their OKR in the given cadence.

Displaying OKR confidence levels as text by default, instead of a numeric value as it is easier for users to estimate how confident are of achieving their Key Results using words - Excellent, Medium, Low - rather than on a scale from 1-10.
Improved Usability of Filters and Lists
"Sessions" and "owned by Me" are common filters used to create a List of Objectives or Key Results. We fixed an issue with the "owned by Me" filter so that when another team member clicks on a public to everyone List they do not own, it "owned by Me" filter will show the same OKRs and not dynamically update with OKRs owned by the team member who clicked on the List. When using the Session filter, we also created an option to select all or deselect all sub-sessions to help users quickly select all the Sessions they need.