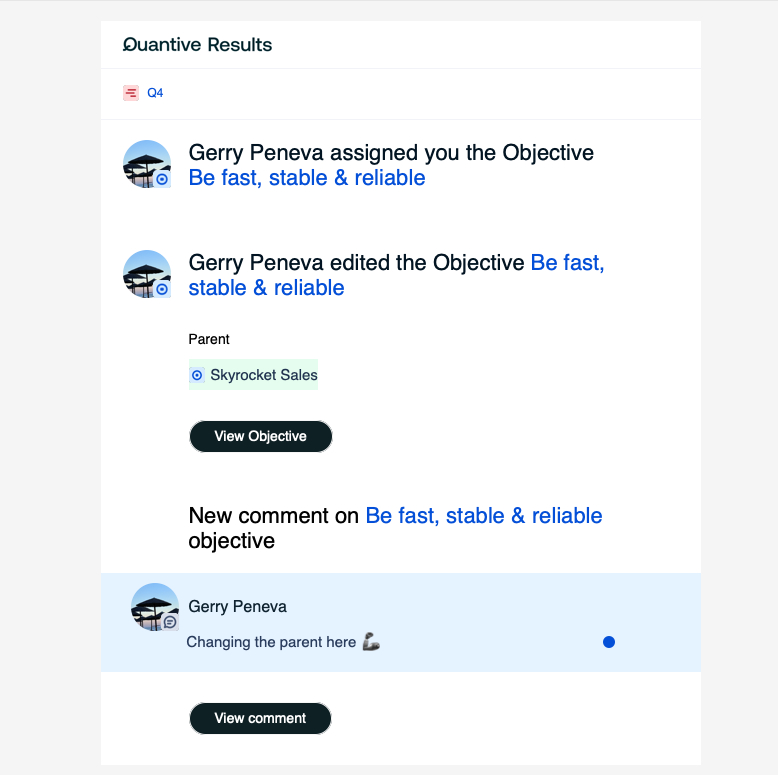 DATE:

AUTHOR:

Quantive Product Team
Q3 Roadmap
✨ Improved
🚩 Essentials
💥 Scale
🏢 Enterprise
📍Quantive Results
Redesigned emails are hitting your inbox!
DATE:
AUTHOR: Quantive Product Team
We're on a mission to help you be more productive with improved email notifications for Quantive Results.
This quarter our team has prioritized making it easier for you to know what is going on with your team and what needs your action, with improved email notifications. These improvements include restructuring the information in existing emails and adding additional emails for important updates.
What's new with emails
Now with email notifications, users will see an improved experience:
Additional notifications for important updates
Email notifications will now be sent for users who are added as a team member, made a team manager, or are tagged as a user in a custom field.

Improved structure for aggregated emails
Emails that aggregate updates are now restructured into intuitive content groups to make it easier for users to digest the important changes.

Clear, simplified emails
Quickly know the update being communicated, with a brief overview of what has changed and clarity on any follow-up action a user should take.
Setting up notifications
Notifications from Quantive Results can be set at the account and personal level. To learn more, visit our help article on configuring account or personal notifications.