DATE:

AUTHOR:

Quantive Product Team

RELATED ROADMAP ITEMS:
Q3 Roadmap
🚀 New
✨ Improved
🚩 Essentials
💥 Scale
🏢 Enterprise
📍Quantive Results
New Navigation Experience (Beta Testing)
DATE:
AUTHOR: Quantive Product Team
In our continual strive for improvement and our pursuit of market-leading User Experience, we have released updated navigation to 30% of customers for beta testing to help test and define improvements needed before a wider release. Below is a recap of the focus areas of improvements, a list of updates in our V3 release, and a guide on how to check whether you're included in the beta testing.
6 Focus Areas of Improvement
Here are the specific areas of the navigation our team is working on improving:
Size of menu

Inconsistent sub-items

Inconsistent behavior

Inconsistent patterns

Prioritization of features

Inconsistency in Settings and Configuration

Updates in our V3 release to address our focus areas:
Favorites
We previously added Favorites to Gtmhub to allow you to navigate to frequently used items within the platform quickly. We have made improvements to Favorites, including the ability to remove favorites from the sub-menu, add favorites using a "star" icon at the top of each page, and the ability to reorder favorites in the sub-menu using drag-and-drop.

Suggested
We've added the Suggested section to make sure you're always up to date on things that may interest you. Typical items in the Suggested section are items in Gtmhub that are owned by your team or members of your team. Check it out for yourself.

Notifications Bell
Similar to many popular social media sites, we have added a notifications bell to the menu to act as a repository for all notifications on updates in Gtmhub. Quickly navigate to the bell, and check out what's new in Gtmhub since the last time you logged on.

Option to Switch Accounts
We have added the option to switch accounts to the menu. For organizations that may have more than one account, you can now seamlessly switch between the 2 accounts so you can keep up-to-date.

Reworked Settings Screen
We have reworked the settings screen to enhance the user experience by removing the double navigation pane.
How to check whether your account is included in the beta test?
To check whether you're account is included in the beta testing and you can try out the new updates, navigate to the bottom left of your screen and click on your avatar. Following this, the below menu will pop up and if you're included you can toggle on the New Gtmhub setting. If you're not currently included but would like to be, please get in contact with us by following the below instructions to submit feedback on this release note.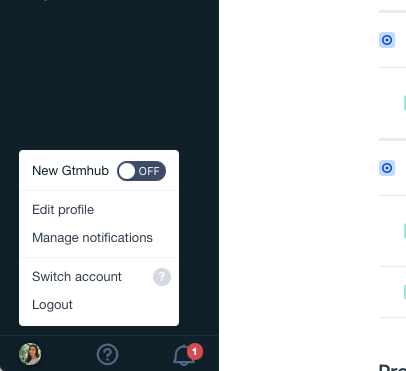 Want to submit your feedback?
On the left-hand side, select an emoji from the "What do you think of this announcement?" section and write in your feedback or suggestions for this new Gtmhub navigation experience.