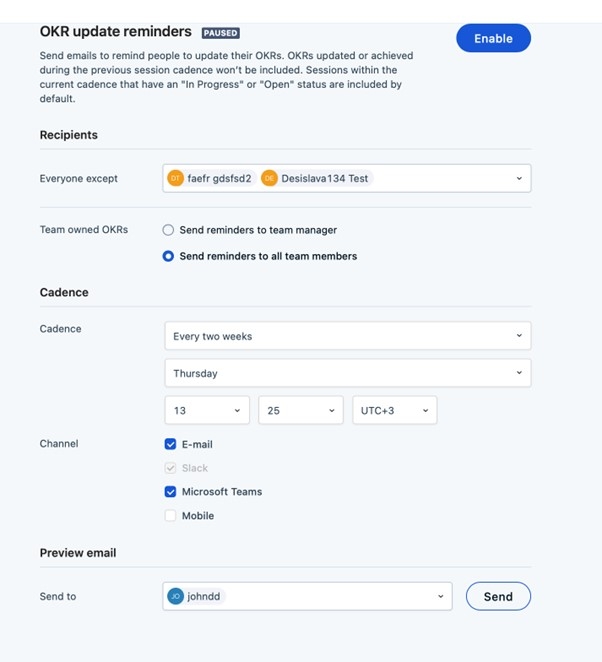 DATE:

AUTHOR:

Quantive Product Team

RELATED ROADMAP ITEMS:
Q4 Roadmap
✨ Improved
🚩 Essentials
💥 Scale
🏢 Enterprise
📍Quantive Results
More Flexible System-Sent Reports
DATE:
AUTHOR: Quantive Product Team
Gtmhub offers out-of-the-box system-sent Aggregated Reports to show OKR Progress, as well as OKR Update Reminders. These are used a lot across our customers as admins don't have to waste time creating Insightboards on progress, exporting them and sending them to employees, or configuring Automations to remind other Users for update their OKRs. That said, to make these reports even more effective and useful, we've taken on board feedback from our customers and made some changes to how our system-sent reports to make them more flexible and configurable to your needs.
Improvements to System-Sent Reports
The improvements to make the system-sent reports more configurable to your needs include:
Better separation of the settings in new sections - we have separated the 2 different reports (Aggregated and OKR Reminder) into 2 different sections so you can configure each separately, without affecting the other.

Exclude users/teams as recipients - previously, there was no way to configure who received the reports. Now, you can easily remove individuals and teams from the reports if they are not relevant to them.

For Team OKRs, choose whether the whole Team receives a report or just the Manager - skip unnecessary emails to the whole Team when one to the Manager will do.

Clear indications when emails are live, and when they will start sending out - stay on top of what's been sent previously, and what is to be sent out in the future, and when.

Preview email as a recipient - preview a test email of OKR Update Reminder / Aggregated Report email to check the look & feel before enabling it for the whole organization.
Want to learn more?
To learn more about customizing your System-Sent Reports, visit our help articles on configuring your Aggregated OKR Report, or configuring your OKR Update Reminders.