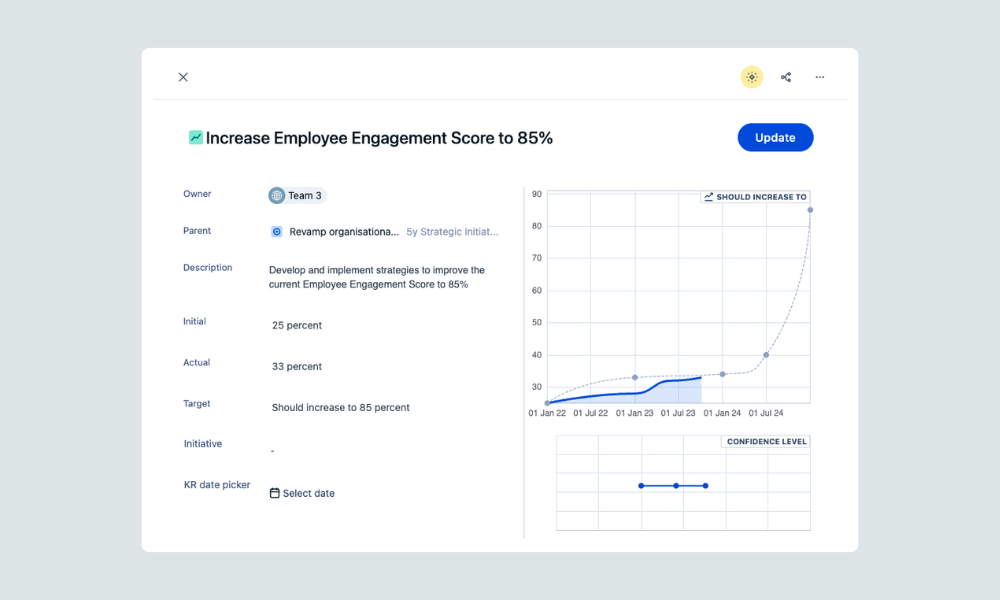 DATE:

AUTHOR:

Quantive Product Team

RELATED ROADMAP ITEMS:
Q3 Roadmap
🚀 New
🏢 Enterprise
📍Quantive Results
Define clear progress expectations with Key Result milestones
DATE:
AUTHOR: Quantive Product Team
We are excited to give you more accurate progress updates with Key Result milestones.
By default, in Quantive Results, you set a linear progression of the Key Result delivery defined by the value to be achieved and days to get there; however, this is not often the case. Many Key Results are not linear, with results accumulated at the planning session's final stage. The results in progress and confidence updates become guesstimates or inaccurate benchmarks.
Now, with Key Result milestones, you can change the expected delivery line of a Key Result by placing a milestone - value and date - within the Key Result target, clearly displaying the expected delivery rate.
Quickly analyze low-progress Key Results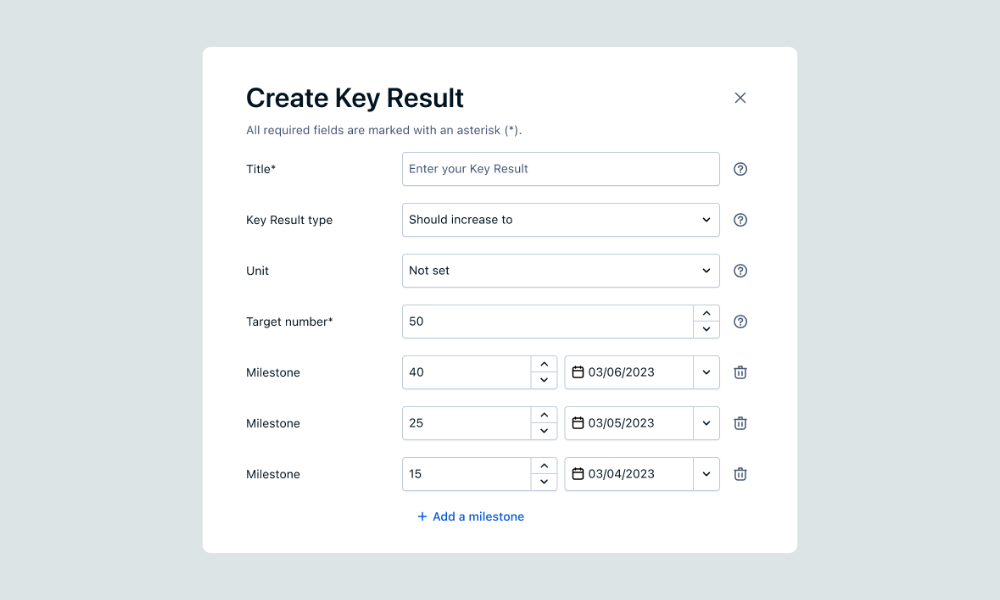 Low progress on a Key Result is not always a bad sign. For Key Results that need ramp-up time or in the case of a Sales team where most deals are closed at the end of the period, low progress early on is completely natural. Now, with Key Result milestones, this context can be made transparent.
More precise Key Result expectations
Keep momentum and increase accountability by defining milestones on progress and setting the expectations of outcomes.


Clearer insights on progress and confidence
Have more clarity on Key Results with discrepancies between progress and confidence by setting milestones showing the planned timeline for progress.


Faster decisions on Key Results falling behind
If a few milestones are missed, it can help start conversations to reevaluate the Key Result and ensure it is achievable.
Availability
Key Result milestones are available within "should increase and should decrease to" Key Results for all customers on Enterprise plans.

Want to learn more?
Visit our help article on adding milestones, and log in to your account to define Key Result expectations.