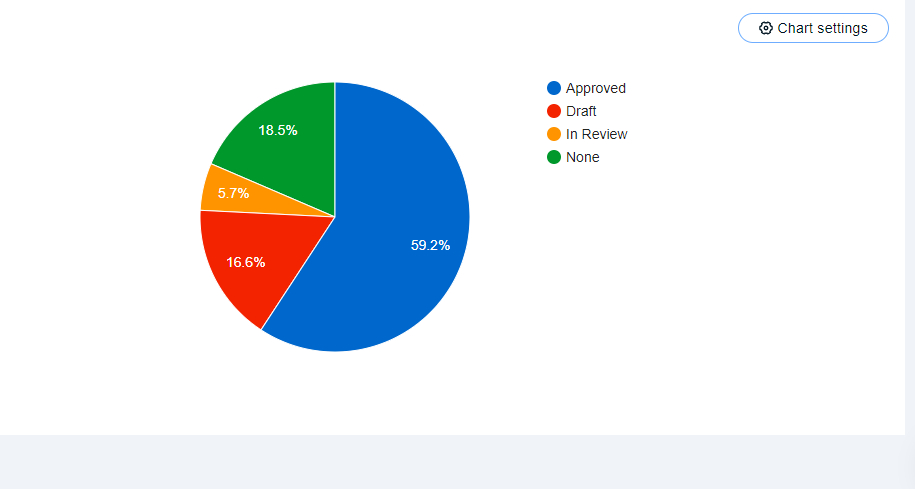 DATE:

AUTHOR:

Quantive Product Team

RELATED ROADMAP ITEMS:
🚀 New
💥 Scale
🏢 Enterprise
📍Quantive Results
Create charts from List data (Beta)
DATE:
AUTHOR: Quantive Product Team
Speed and accurate reporting are the allies of any business. When implementing OKRs, companies rely on reporting OKR progress to monitor success. With the beta release of the Charts in List feature, accounts where the feature is enabled can now improve reporting by creating charts from their List data.
Benefits
Lists are an easy way to create reports in Gtmhub. Creating charts from list data allows users to better visualize, and speed up interpreting the data.
Improved Visualization of data - they say a picture tells a thousand words. Instantly visualize your data in tables, pie charts, line charts, or simple numbers to get a complete overview of the data without having to sift through the list.

Speed up interpreting data - save meeting time trawling through raw data by having the overview and trend data displayed in charts making it easier to interpret and measure success.
Get creative and bring your list data to life with the new charts feature in Gtmhub.
How to check whether you're included in the beta release?
To check whether your account has been included in the beta release, navigate to your Lists in Gtmhub. Select and open a List to which you have edit rights. Click the viewing options dropdown, and if you have options to visusalize the data within a selection of charts, you have been included. If not, don't worry, follow the steps below to be included.
Want to be included in the beta release?
If you're not currently included but would like to be, please get in contact with us by following the below instructions to submit feedback on this release note. On the left-hand side of this page, select an emoji from the "What do you think of this announcement?" section and write in your request, feedback or suggestions for this new Charts in List feature.