DATE:

AUTHOR:

Quantive Product Team
Q2 Roadmap
🚀 New
🏢 Enterprise
📍Quantive Results
Account-level settings for Platform Intelligence (Quantive Results)
DATE:
AUTHOR: Quantive Product Team
We are thrilled to announce that Platform Intelligence can now take into consideration specified information about your organization and your organization's specific approach to the OKR methodology. With this update, end-users will be provided with more relevant AI-generated suggestions for objectives, key results, tasks, and more. 
We recognize that every organization has its own unique culture and business context that should be reflected in the company's approach to Objectives and Key Results (OKRs). Prior to this update, Platform Intelligence already leveraged information about previous OKRs, alignment between users and teams, and overall user context to provide relevant suggestions. We wanted to take this a step further and provide our customers with a way to specify their industry, sector, and company description which will be used to generate AI suggestions tailored to their specific company and culture. 
With this new functionality, Quantive Results administrators can now update their account-level settings to include details about their organization that reflect their unique business context and the nuances of their organization's OKR methodology. These updated account settings are then used by AI-generated suggestions to provide more relevant and accurate suggestions to all end-users of the account. 
Where are these settings available? 
Admin users can now update account-level settings by navigating to the "Settings / System / Accounts and Domain," and "Settings / Account / Methodology" pages of the settings section.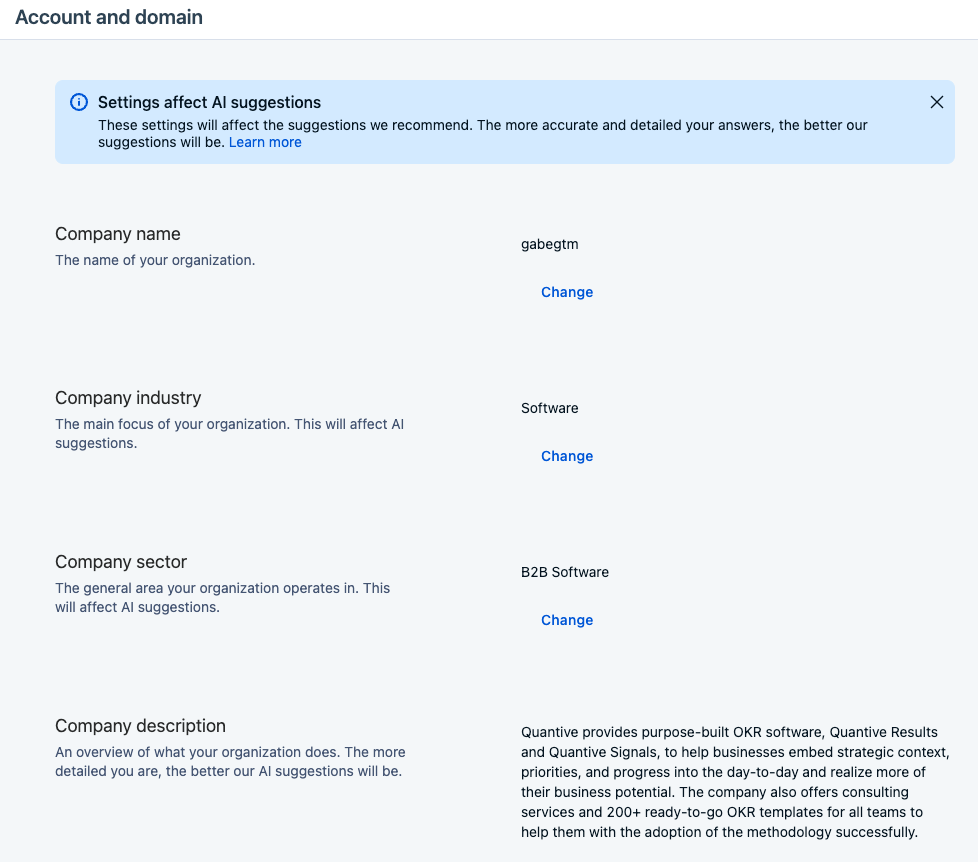 Availability 
Platform Intelligence is now available to customers on Commercial and Enterprise plans at no extra charge. 
Want to learn more? 
We developed this new feature to help our customers' OKR journey become smoother, faster and more efficient by leveraging the power of AI to deliver useful insights for effective goal setting. To learn more about leveraging Platform Intelligence in Quantive Results, please consult our help center articles. 
With Platform Intelligence now taking into account your organization's context and your specific approach to OKRs, the suggestions provided in the Quantive Results platform will be even more relevant for all users.